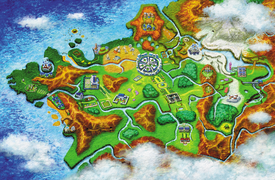 Kalos (Japanese: カロス地方 Kalos-chihō) is a region of the Pokémon world. It is the setting of Pokémon X and Y. It is based on France. The Kalos region is shaped like a five-pointed star, with one of its biggest cities being Lumiose City to the north-central part of the region. It features a vast network of rivers and waterways snaking though much of it's landscape, cities and towns. North-east of Lumiose City, lies a mountain range where more frigid temperatures exist, extending down into the plains below. Professor Sycamore in Lumiose City will give you the choice of three starter Pokémon: Chespin, Fennekin, or Froakie.
Cities and towns
Edit
| City/Town | Population | Description |
| --- | --- | --- |
| Vaniville Town | 9 | Blooming buds covered in mountain dew exude hope for the future in this small town. |
| Aquacorde Town | 15 | A town that naturally sprang as people flocked to this pristine riverside. |
| Santalune City | 36 | Many beginning Trainers gather in this friendly city to start a Pokémon journey. |
| Lumiose City |  ??? | A dazzling metropolis of art and artifice, located in the very heart of the Kalos region. |
| Camphrier Town | 18 | This ancient town was once famous for the long-neglected manor home of a noble family. |
| Kiloude City |  ??? | This city, popular with Pokémon Trainers, is a typical example of southern Kalosian life. |
| Cyllage City | 50 | A city nestled between the cliffs and the sea, overlooked by steep Bicycle racecourses. |
| Ambrette Town | 27 | This town was known only for its aquarium until the discovery of rare Fossils really put it on the map. |
| Geosenge Town | 11 | A town lined with mysterious stones and encircled by strange ruins of old. |
| Shalour City | 40 | The seaside home of the Tower of Mastery, where the legend of mysterious stones lives on. |
| Coumarine City | 43 | An exclusive resort area made popular thanks to its clear skies and mild atmosphere. |
| Laverre City | 43 | An unearthly city created by those inspired by a mysterious and ancient tree 1,500 years old. |
| Dendemille Town | 21 | A rural town where Pokémon and windmills work together to farm the land in a chilly latitude. |
| Anistar City | 37 | Some say the enigmatic device used as a sundial came from outer space. |
| Couriway Town | 17 | The railway brings people from great distances to see the huge, majestic falls. |
| Snowbelle City | 39 | They say the cold air flowing from the Pokémon Gym is responsible for this city's frozen state. |
Ad blocker interference detected!
Wikia is a free-to-use site that makes money from advertising. We have a modified experience for viewers using ad blockers

Wikia is not accessible if you've made further modifications. Remove the custom ad blocker rule(s) and the page will load as expected.