Pokémon X
ポケットモンスターX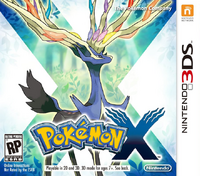 Pokémon Y
ポケットモンスターY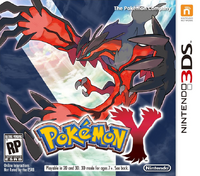 Game Information
Generation
Generation VI
Players
1-4 players
Platform
Nintendo 3DS

Category
RPG
Developer
Game Freak
Publisher
Nintendo
The Pokémon Company
Game Information
Japan
October, 2013
North America
October, 2013
Europe
October, 2013
South Korea
N/A
Australia
October, 2013
Pokémon X (Japanese: ポケットモンスターX, Pocket Monsters X) and Pokémon Y (Japanese: ポケットモンスターY, Pocket Monsters Y) are the upcoming video games of the Generation VI series. Pokémon X and Pokémon Y are the first two Pokémon video games that comes in the main game series for the Nintendo 3DS. The video games were announced by current Nintendo president Satoru Iwata on January 8, 2013 on 11 AM GMT and 6 AM JST during a Pokémon Direct video on the Nintendo 3DS. These will be the first video games of the Pokémon series that will be released worldwide with exception of different countries. Pokémon X and Pokémon Y will be released on October 2013, but the official release date of the video games is still unknown.
Ad blocker interference detected!
Wikia is a free-to-use site that makes money from advertising. We have a modified experience for viewers using ad blockers

Wikia is not accessible if you've made further modifications. Remove the custom ad blocker rule(s) and the page will load as expected.